Importance of CBCT in the management plan of upper canine with internal resorption
Roberto Fornara | info@studiofornara.eu

Private Practice in Magenta, Italy.

Dario Re Cecconi

Department of Medicine, Surgery and Dentistry, Unit of Oral Medicine, Oral Pathology and Gerontology, University of Milan, Italy.
Abstract
Aim: Internal root resorption is a particular medical condition which requires the clinician to a treatment as early as possible to avoid complications such as excessive loss of mineralized tissues and periodontal communications. Methodology: This article describes the diagnosis and treatment of a case of internal resorption of an upper canine in a patient of 21 years. The presence of pain and swelling periodontal gum showed an interest, a sign of the presence of a perforation. Result and conclusions: Accurate diagnosis associated with the three-dimensional evaluation of the internal fault (CBCT examination) have allowed a conservative treatment who has allowed the recovery of the tooth.
Downloads
Download data is not yet available.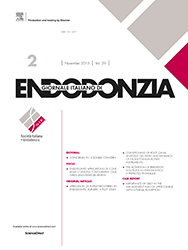 Info
Keywords:
Internal resorption, Perforating internal root resorption, Cone beam computed tomography, Mineral trioxide aggregate, Nonsurgical endodontic therapy
Statistics
Abstract views:

63



PDF:

43
How to Cite
Fornara, R., & Re Cecconi, D. (1). Importance of CBCT in the management plan of upper canine with internal resorption. Giornale Italiano Di Endodonzia, 29(2), 70-76. https://doi.org/10.32067/gie.2015.29.02.06