Editorial
Sandro Rengo | sanrengo@unina.it

Editor-in-Chief, Giornale Italiano di Endodonzia, Italy.
Abstract
During the 36th National Congress of the Italian Society of Endodontics (SIE) to be held in Bologna from 7th to 9th of November 2019, we will talk about Modern Endodontics between technology and experience, with a series of discussions and lectures about the most recent developments in the digital workflow applied to Endodontics [...].
Downloads
Download data is not yet available.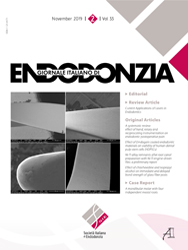 Keywords:
36 congress, modern endodontics
Statistics
Abstract views: 191

pdf: 135

Share it
PlumX Metrics
PlumX Metrics provide insights into the ways people interact with individual pieces of research output (articles, conference proceedings, book chapters, and many more) in the online environment. Examples include, when research is mentioned in the news or is tweeted about. Collectively known as PlumX Metrics, these metrics are divided into five categories to help make sense of the huge amounts of data involved and to enable analysis by comparing like with like.
How to Cite
Rengo, S. (2019). Editorial. Giornale Italiano Di Endodonzia, 33(2). https://doi.org/10.32067/gie.2019.33.02.07