Analysis of the ability of XP Clean and easy clean files to remove Calcium Hydroxide paste from simulated internal tooth resorptions
Abstract
Aim: This study compared the ability of instruments XP Clean and Easy Clean to remove the calcium hydroxide paste from simulated internal root resorptions.
Methodology: Thirty freshly extracted human lower incisors were sectioned through the long axis after biomechanical preparation with ProTaper files. On each half, a defect simulating an internal resorption was fabricated on the middle root canal third using a round bur. One week after insertion of calcium hydroxide paste, the teeth were divided into three groups according to the technique employed: G1-Conventional irrigation; G2-XP Clean and G3-Easy Clean. Each instrument was used in three cycles of 20 seconds, followed by renewal with 2 ml of irrigant. Thereafter, the specimens were analyzed on a stereoscopic magnifying glass to analyze the removal of dressing material.
Results: Similar performance was observed for both methods employed, even though the rates of absence of removal were higher for the group Easy Clean compared to the group XP Clean.
Conclusions: The XP Clean presented better results in removing the calcium hydroxide paste compared to Easy Clean, with statistically significant difference.
Downloads
Download data is not yet available.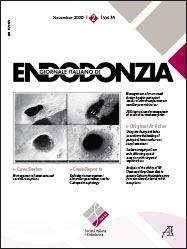 Info
Section
Original Articles
Keywords:
endodontics, root canal treatment, root resorption
Statistics
Abstract views:

118



PDF:

86
How to Cite
Brunini, S. H. S., Yamashita, M. S., Babolin, M. de O., & Tomazinho, L. F. (2020). Analysis of the ability of XP Clean and easy clean files to remove Calcium Hydroxide paste from simulated internal tooth resorptions. Giornale Italiano Di Endodonzia, 34(2). https://doi.org/10.32067/GIE.2020.34.02.09
Copyright (c) 2020 Sérgio Henrique Staut Brunini, Mariana Suemi Yamashita, Mayara de Oliveira Babolin, Luiz Fernando Tomazinho
This work is licensed under a Creative Commons Attribution-NonCommercial 4.0 International License.