Endodontic management of maxillary permanent molar C-shaped morphology
Mariana Domingos Pires | mariana.dpires@gmail.com

Department of Endodontics, Faculty of Medicina Dentária, University of Lisbon, Portugal.

https://orcid.org/0000-0002-6528-5882

Beatriz Pereira

Department of Endodontics, Faculty of Medicina Dentária, University of Lisbon, Portugal.

https://orcid.org/0000-0003-1290-0690

João Fagulha

Department of Endodontics, Polythecnic and University Higher Education Coperative (CESPU), Gandra, Portugal.

João Meirinhos

Department of Endodontics, Faculty of Medicina Dentária, University of Lisbon, Portugal.

https://orcid.org/0000-0003-1182-3099

Sérgio André Quaresma

Department of Endodontics, Faculty of Medicina Dentária, University of Lisbon, Portugal and Department of Endodontics, University of Catalunya, Barcelona, Spain.

https://orcid.org/0000-0002-4558-1588

Jorge NR Martins

Department of Endodontics and Unity of Investigation of Oral and Biomedical Science (UICOB) and Biomedical Science and Center Study of Evidence Based Dentistry. Faculty of Medicina Dentária, University of Lisbon, Lisbon, Portugal.

https://orcid.org/0000-0002-6932-2038
Abstract
Aim: Report on the successful endodontic management of 4 permanent maxillary molars with a C-shape configuration of the root canal system.
Summary: Even though C-shaped anatomies are more commonly described in the mandibular molars, its occurrence in permanent maxillary molars has also been reported. Complexity of the root canal system may pose a difficulty in achieving proper chemo-mechanical debridement, and consequently jeopardize the success of endodontic therapy. Additional dedicated armamentarium can help the clinician recognize, assess, plan and better manage such complex configurations.
Key learning points
Although of rare prevalence, clinicians must be aware and recognize the possible existence of a C-shaped root canal configuration in both first and second permanent maxillary molars.
This anatomy can be attributed to an embryologic alteration that leads to the non-division of roots during the root formation stage of tooth formation.
Further studies on the prevalence of the C-shaped configuration in permanent maxillary molars may contribute to a better understanding and, consequently, proper management of this morphology.
Specific tools, such as the dental operating microscope and specific ultrasonic tips, as well as additional means of enhancing chemical debridement, are essential for the correct management of these intricate anatomies and appear to positively impact outcome of root canal treatment.
Downloads
Download data is not yet available.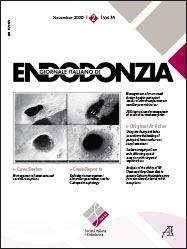 Info
Keywords:
anatomy, C-shape, endodontics, maxillar molar
Statistics
Abstract views:

169



PDF:

127
How to Cite
Domingos Pires, M., Pereira, B., Fagulha, J., Meirinhos, J., Quaresma, S. A., & Martins, J. N. (2020). Endodontic management of maxillary permanent molar C-shaped morphology. Giornale Italiano Di Endodonzia, 34(2). https://doi.org/10.32067/GIE.2020.34.02.07
Copyright (c) 2020 Mariana Domingos Pires, Beatriz Pereira, João Fagulha, João Meirinhos, Sérgio André Quaresma, Jorge NR Martins
This work is licensed under a Creative Commons Attribution-NonCommercial 4.0 International License.