Histological and histochemical aspects of the dentin-pulp complex in offsprings of rats treated with fluoxetine during pregnancy and lactation
Abstract
Aim:This study aimed to analyze histological aspects of the dentin-pulp complex in rats neonates treated with fluoxetine during pregnancy and lactation.
Methodology: For this purpose were used first molars of 24 Wistar rat pups, 25 days old-aged, divided into 4 groups: PCG and PCGL whose mothers positive controls received 0.9% NaCl (oral) during gestation and  gestacion/lactation, respectively; FG and FGL both mothers received fluoxetine at 20 mg / kg (oral) during pregnancy and gestation/lactation, respectively. The animals were anesthetized, maxillaries removed and fixed in 4% formaldehyde, decalcified in EDTA and processed conventionally for light microscopy. Paraffin sections were stained by Hematoxylin and Eosin, Masson's Trichromatic and Pricosirius Red.
Results: There was no evidence of structural and histochemical changes in the pulp-dentin complex in the groups studied.
Conclusions: Therefore, we could conclude that the fluoxetine in 20 mg/kg dosage, administrated during pregnancy and lactation, did not interfered in the dentin-pulp complex development in offsprings of rats when analyzed in the age of 25 days.
Downloads
Download data is not yet available.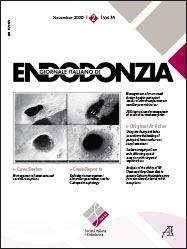 Info
Section
Original Articles
Keywords:
dental development, depression, fluoexetine, pregnancy, rats
Statistics
Abstract views:

83



PDF:

38
How to Cite
França, J., & Barbosa, E. (2020). Histological and histochemical aspects of the dentin-pulp complex in offsprings of rats treated with fluoxetine during pregnancy and lactation. Giornale Italiano Di Endodonzia, 34(2). https://doi.org/10.32067/GIE.2020.34.02.10
Copyright (c) 2020 Jessyca França, Eduardo Barbosa
This work is licensed under a Creative Commons Attribution-NonCommercial 4.0 International License.