Apical extrusion of debris produced by the heat treated single-file systems XP-Endo Shaper, Reciproc Blue and ProDesign Logic
Abstract
Aim: This study evaluated the apical extrusion of debris during root canal preparation produced by the single-file systems XP-Endo Shaper (FKG Dentaire, La Chaux-de-Fonds, Switzerland), Reciproc Blue (VDW GmbH, Munich, Germany), and ProDesign Logic (Easy Equipamentos Odontológicos, Belo Horizonte, MG, Brazil).
Methodology: Thirty single straight root canals in mandibular premolar were prepared and randomly assigned to 3 groups (n=10), according to instrument used for root canal preparation: XP-Endo Shaper, Reciproc Blue, or ProDesign Logic. Root canal shaping technique was performed by root segments and the apically extruded debris were collected and quantified using a debris collection setup with Eppendorf tubes and agar gel. Mean values were obtained by subtracting the initial weight of the test apparatus without specimens from its weight after root canal preparation. Then, one-way analysis of variance (ANOVA) followed by Bonferroni post hoc test were applied for comparison of values. The statistical significance level was set at 5%.
Results: No significant difference was observed among groups (P>0.05), but all the instruments produced debris extrusion from the apical foramen.
Conclusion: The heat treated single-file systems XP-Endo Shaper, Reciproc Blue, and ProDesign Logic produce similar amounts of apically extruded debris during root canal preparation. All single-file systems evaluated promoted apical extrusion of debris.
Downloads
Download data is not yet available.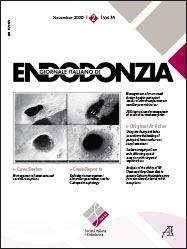 Info
Section
Original Articles
Keywords:
apical extrusion, ProDesign Logic, Reciproc Blue, single-file systems, XP-Endo Shaper
Statistics
Abstract views:

276



PDF:

144
How to Cite
Neri, L., M. Kadi, E., C. G. Radaic, S., G. Ferreira, K., C. Prado, M., Nascimento, W. M., Soares, A. J., & Frozoni, M. (2020). Apical extrusion of debris produced by the heat treated single-file systems XP-Endo Shaper, Reciproc Blue and ProDesign Logic. Giornale Italiano Di Endodonzia, 34(2). https://doi.org/10.32067/GIE.2020.34.02.06
Copyright (c) 2020 Lívia Neri, Eduardo M. Kadi, Sandra C. G. Radaic, Karla G. Ferreira, Marina C. Prado, Wayne M. Nascimento, Adriana J. Soares, Marcos Frozoni
This work is licensed under a Creative Commons Attribution-NonCommercial 4.0 International License.