Effect of a root dentin deproteinization protocol on self-adhesive cementation of fiber posts
Emanuela Gaviolli

School of Dentistry, Meridional Faculty (IMED), Passo Fundo, RS, Brazil.

Matheus Rubens da Silva

School of Dentistry, University of North Parana (UNOPAR), Londrina, PR, Brazil.

Alexandra Graunke

School of Dentistry, Meridional Faculty (IMED), Passo Fundo, RS, Brazil.

Luiz Alexandre Chisini

School of Dentistry, Universidade do Vale do Taquari (UNIVATES), Lajeado, RS, Brazil.

https://orcid.org/0000-0002-3695-0361

Françoise Hélène Van de Sande

School of Dentistry, Meridional Faculty (IMED), Passo Fundo, RS, Brazil.

https://orcid.org/0000-0001-8239-9630
Rodrigo Varella de Carvalho | rodrigo.varella@gmail.com

School of Dentistry, Meridional Faculty (IMED), Passo Fundo, RS, Brazil.

https://orcid.org/0000-0002-2644-5820
Abstract
Aim: This study evaluated the effect of a root dentin deproteinization protocol on the bond strength of fiber post cemented with self-adhesive resin cement.
Materials and Methods: Twenty-four single-rooted teeth were randomly divided into two groups (n=12), as follows: G1 - cementation with self-adhesive resin cement RelyX U200 (3M/ESPE) according to manufacturer's instructions; G2 - treatment of root dentin with phosphoric acid at 37% for 15 s followed by sodium hypochlorite (NaOCl) at 5% for 5 minutes, and post cementation according to manufacturer's instructions. A light-emitting diode (LED) unit was used for photoactivation and after 24h at 37 °C in absolute humidity, teeth were sectioned into slices of 1 mm divided by different root thirds (cervical, middle and apical) and submitted to the push-out bond strength test. Two-criteria ANOVA was used to determine the statistical significance between groups (p<0.05).
Results: No statistical difference in bond strength between group cemented as manufacturer's instructions and group submitted to deproteinization was detected (p>0.05). As well as there was no statistical difference between the different root thirds evaluated (p>0.05).
Conclusions: The deproteinization protocol proposed was not able to improve the bond strength of self-adhesive cement to root dentin.
Downloads
Download data is not yet available.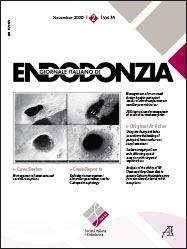 Info
Section
Original Articles
Keywords:
Collagen, dental cements, deproteinization, post technique, root canal
Statistics
Abstract views:

96



PDF:

54
How to Cite
Gaviolli, E., da Silva, M. R., Graunke, A., Chisini, L. A., Van de Sande, F. H., & Varella de Carvalho, R. (2020). Effect of a root dentin deproteinization protocol on self-adhesive cementation of fiber posts. Giornale Italiano Di Endodonzia, 34(2). https://doi.org/10.32067/GIE.2020.34.02.16
Copyright (c) 2020 Emanuela Gaviolli, Matheus Rubens da Silva, Alexandra Graunke, Luiz Alexandre Chisini, Françoise Hélène Van de Sande, Rodrigo Varella de Carvalho
This work is licensed under a Creative Commons Attribution-NonCommercial 4.0 International License.