The effect of calcium hydroxide on the apical microleakage of canals filled with bioceramic and resin sealers
Solmaz Araghi

Department of Endodontics, Islamic Azad University, Dental Branch, Tehran, Iran, Islamic Republic of.

https://orcid.org/0000-0002-7839-8616

Seyyedeh Sahar Mirzaee

School of Dentistry, Kermanshah University of Medical Sciences, Kermanshah, Iran, Islamic Republic of.

Parisa Soltani

Department of Oral and Maxillofacial Radiology, Dental Implants Research Center, Dental Research Institute, School of Dentistry, Isfahan University of Medical Sciences, Isfahan, Iran, Islamic Republic of.

https://orcid.org/0000-0002-9273-5279
Shimasadat Miri | shsami2010@yahoo.com

Department of Endodontics, School of Dentistry, Kermanshah University of Medical Sciences, Kermanshah, Iran, Islamic Republic of.

Mahsasadat Miri

Department of Gynecology and Obstetrics, School of Medicine, Isfahan University of Medical Sciences, Isfahan, Iran, Islamic Republic of.

https://orcid.org/0000-0003-1679-9016
Abstract
Aim: To evaluate the impact of calcium hydroxide (Ca[OH]2) on the apical microleakage of canals filled with the bioceramic Total Fill BC (TF BC) and the resin AH 26 sealers. 
Methodology:A total of 104 human single-canal maxillary teeth were prepared with rotary files. The teeth were randomly divided into two main test groups (n=48) and two control groups, one positive and one negative (n=4). In one test group, Ca(OH)2 was used; in the other test group, no dressing was placed within the canal. Samples in each test group - with or without Ca(OH)2 dressing - were randomly divided into two subgroups. In one subgroup, AH 26 sealer was used and in the other one, TF BC sealer was used. The specimens with Ca(OH)2 were kept at 37 °C in 100% humidity. A dye penetration technique was used to evaluate the leakage. The data were analyzed by Kolmogorov-Smirnov, Kruskal-Wallis, Mann-Whitney U, and Fisher exact tests.
Results: The mean microleakage in the subgroups filled with TF BC sealer, with or without Ca(OH)2, was significantly greater than that in the subgroups filled with AH 26 sealer. In addition, the microleakage of the TF BC specimens with Ca(OH2) was significantly higher than the microleakage of TF BC specimens without the dressing (P<0.001).
Conclusion: The findings of this study showed that use of Ca(OH)2 as an intracanal dressing negatively affected the sealing potential of TF BC.
Downloads
Download data is not yet available.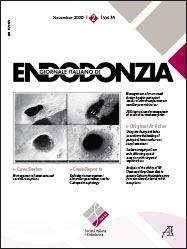 Info
Section
Original Articles
Keywords:
AH 26, apical leakage, calcium hydroxide, Total Fill BC
Statistics
Abstract views:

138



PDF:

107
How to Cite
Araghi, S., Mirzaee, S. S., Soltani, P., Miri, S., & Miri, M. (2020). The effect of calcium hydroxide on the apical microleakage of canals filled with bioceramic and resin sealers. Giornale Italiano Di Endodonzia, 34(2). https://doi.org/10.32067/GIE.2020.34.02.13
Copyright (c) 2020 Solmaz Araghi, Seyyedeh Sahar Mirzaee, Parisa Soltani, Shimasadat Miri, Mahsasadat Miri
This work is licensed under a Creative Commons Attribution-NonCommercial 4.0 International License.