Residual Effect of Sodium Hypochlorite on Pulp Chamber Dentin Adhesion
Juliana Delatorre Bronzato | julianadelatorre_@hotmail.com

Department of Restorative Dentistry, Division of Endodontics, Piracicaba Dental School, State University of Campinas (UNICAMP) Piracicaba, SP, Brazil.

https://orcid.org/0000-0002-8249-7916

Ana Carolina Pimentel Correa

Department of Restorative Dentistry, Division of Endodontics, Piracicaba Dental School, State University of Campinas (UNICAMP) Piracicaba, SP, Brazil.

Brenda Paula Figueiredo de Almeida Gomes

Department of Restorative Dentistry, Division of Endodontics, Piracicaba Dental School, State University of Campinas (UNICAMP) Piracicaba, SP, Brazil.

https://orcid.org/0000-0002-8449-0646

Caio Cezar Randi Ferraz

Department of Restorative Dentistry, Division of Endodontics, Piracicaba Dental School, State University of Campinas (UNICAMP) Piracicaba, SP, Brazil.

https://orcid.org/0000-0002-1513-682X
Abstract
Aim: This study has evaluated the residual effect of NaOCl on resin-pulp chamber dentin bond strength after 7 and 14 days, using a three-step etch-and-rinse adhesive system. 
Methodology: Forty pulp chamber dentin from bovine incisors crowns were randomly allocated to one of the following groups: G1, immersion in 0.9% saline solution for 30 minutes (control); G2, immersion in 5.25% NaOCl for 30 minutes; G3, immersion in 5.25% NaOCl for 30 minutes and stored for 7 days; and G4, immersion in 5.25% NaOCl for 30 minutes and stored for 14 days. After restoration, the dentin/resin interface was tested by microtensile bond strength and failure mode was analyzed by Scanning Electron Microscopy. Data were analyzed by ANOVA followed by Tukey. 
Results: G1 had higher bond strength than the rest of the groups. There were no statistically significant differences among G2, G3, and G4 (p>0.05). 
Conclusions: The adverse effect of NaOCl on bond strength persisted even after 14 days after exposure.
Downloads
Download data is not yet available.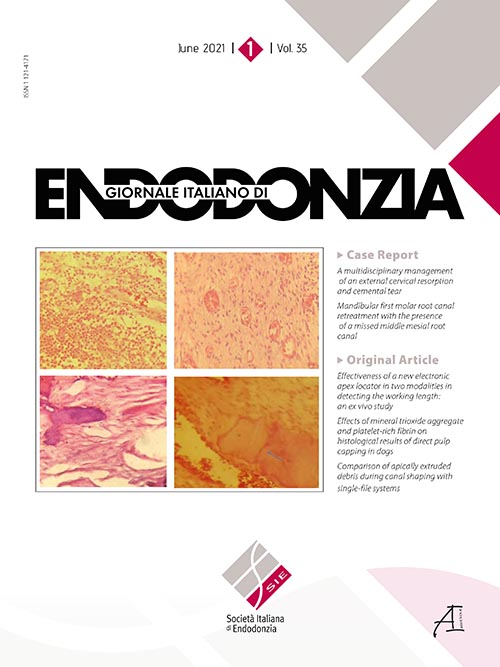 Info
Section
Original Articles
Keywords:
composite resins, dentin bond agents, endodontics, sodyum hyperchlorite
Statistics
Abstract views:

449



PDF:

71
How to Cite
Bronzato, J. D., Correa, A. C. P., Gomes, B. P. F. de A., & Ferraz, C. C. R. (2021). Residual Effect of Sodium Hypochlorite on Pulp Chamber Dentin Adhesion. Giornale Italiano Di Endodonzia, 35(1). https://doi.org/10.32067/GIE.2021.35.01.05
Copyright (c) 2021 Juliana Delatorre Bronzato, Ana Carolina Pimentel Correa, Brenda Paula Figueiredo de Almeida Gomes, Caio Cezar Randi Ferraz
This work is licensed under a Creative Commons Attribution-NonCommercial 4.0 International License.