Micro-computed tomography evaluation of filling material removal by three reciprocating systems with different thermal treatments
Ana Grasiela Limoeiro | grasielalimoeiro@gmail.com

Department of Endodontics, Ilhéus School of Dentistry, BA, Brazil.

https://orcid.org/0000-0003-4633-720X

Antônio Henrique Braitt

Department of Endodontics, Ilhéus School of Dentistry, BA, Brazil.

Alessandra Silveira Machado

Nuclear Engineering Program, Federal University of Rio de Janeiro, Rio de Janeiro, RJ, Brazil.

Carlos Eduardo Bueno

Department of Endodontics, Faculty São Leopoldo Mandic, Instituto de Pesquisas São Leopoldo Mandic, Campinas, SP, Brazil.

https://orcid.org/0000-0002-2675-0884

Carlos Eduardo Fontana

Department of Endodontics, Pontificia Católica University, Campinas, SP, Brazil.

https://orcid.org/0000-0002-2868-6839

Laila Gonzales Freire

Department of Restorative Dentistry, São Paulo University, SP, Brazil.

https://orcid.org/0000-0002-9552-8101

Ricardo Tadeu Lopes

Nuclear Engineering Program, Federal University of Rio de Janeiro, Rio de Janeiro, RJ, Brazil.

https://orcid.org/0000-0001-7250-824X

Alexandre De Martin

Department of Endodontics, Faculty São Leopoldo Mandic, Instituto de Pesquisas São Leopoldo Mandic, Campinas, SP, Brazil.

https://orcid.org/0000-0002-3320-9172
Abstract
Aim: This study compared the efficacy of three reciprocating systems with different heat treatments in removing obturator material from lower molar mesial canals.
Methodology: The mesial canals of 18 lower molars were instrumented with ProTaper Next 25/0.06 and filled with gutta-percha and AHPlus. The teeth were randomly divided into three groups (n=6) according to the system used to remove the filling material: Reciproc (REC R25), Reciproc Blue (RECB R25) and Wave One Primary (WO). The desobturation was considered complete when the working length was reached, and remnants of obturator material were no longer found in the instrument and also in the canal walls, observed through the dental operating microscope.
Results: The results were analyzed using Biostat 4.0 software. Shapiro-Wilk and ANOVA (Tukey) tests with a significance level of 5% were applied. The volume of obturator material decreased in the cervical and middle thirds after the use of REC, RECB and WO systems (P<.01), but there was no significant difference between the three systems (P>.05). In the apical third, there was no significant reduction in the remaining obturator material independent of the operating system (P>.05).
Conclusions: REC, RECB and WO systems showed similarity in the removal of obturator material and were inefficient specifically in the apical third, showing the limitation of these systems in removing obturation material from curved canals.
Downloads
Download data is not yet available.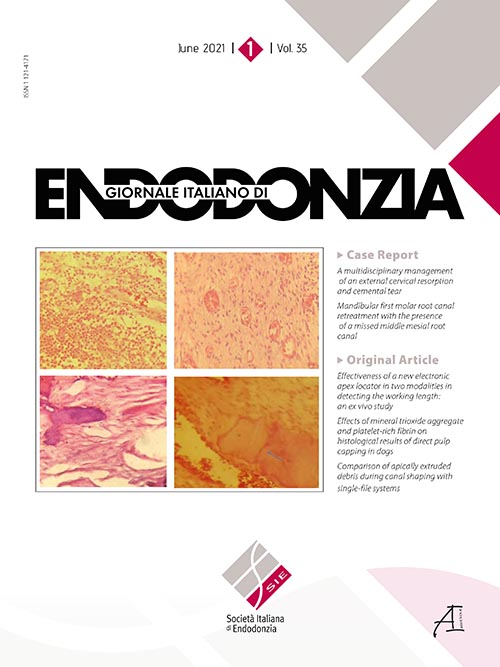 Info
Section
Original Articles
Keywords:
endodontic retreatment, heat treatment, micro-CT
Statistics
Abstract views:

185



PDF:

40
How to Cite
Limoeiro, A. G., Braitt, A. H., Silveira Machado, A., Bueno, C. E., Fontana, C. E., Freire, L. G., Lopes, R. T., & De Martin, A. (2021). Micro-computed tomography evaluation of filling material removal by three reciprocating systems with different thermal treatments. Giornale Italiano Di Endodonzia, 35(1). https://doi.org/10.32067/GIE.2021.35.01.07
Copyright (c) 2021 Ana Grasiela Limoeiro, Antônio Henrique Braitt, Alessandra Machado, Carlos Eduardo Bueno, Carlos Eduardo Fontana, Laila Gonzales Freire, Ricardo Tadeu Lopes, Alexandre De Martin
This work is licensed under a Creative Commons Attribution-NonCommercial 4.0 International License.