Antimicrobial activity of tt-farnesol associated with an endodontic sealer against Enterococcus faecalis
Alessandro Diogo De-Carli

Department of Dentistry, Federal University of Mato Grosso do Sul, Campo Grande, Mato Grosso do Sul, Brazil.

https://orcid.org/0000-0002-4560-4524

Diego Luiz Sorgatto

Department of Dentistry, Federal University of Mato Grosso do Sul, Campo Grande, Mato Grosso do Sul, Brazil.

Rennan Paim

Department of Dentistry, Federal University of Mato Grosso do Sul, Campo Grande, Mato Grosso do Sul, Brazil.

https://orcid.org/0000-0002-5843-2338

Filipe Colombo Vitali

Department of Dentistry, Federal University of Santa Catarina, Florianópolis, Santa Catarina, Brazil.

https://orcid.org/0000-0001-6189-9169

Rafael Aielo Bomfim

Department of Dentistry, Federal University of Mato Grosso do Sul, Campo Grande, Mato Grosso do Sul, Brazil.

https://orcid.org/0000-0002-6478-8664

Jefferson de Carvalho Marion

Department of Dentistry, Federal University of Mato Grosso do Sul, Campo Grande, Mato Grosso do Sul, Brazil.

https://orcid.org/0000-0003-4320-2561
Thais Mageste Duque | thaismadu@hotmail.com

Department of Dentistry, Federal University of Santa Catarina, Florianópolis, Santa Catarina, Brazil.

https://orcid.org/0000-0003-2265-8690
Abstract
Aim: This study aimed to evaluate in vitro the antibacterial activity of trans-trans farnesol (tt-farnesol) associated with Sealapex sealer against Enterococcus faecalis.
Methodology: Initially, the minimum bactericidal concentration (MBC) of tt-farnesol was determined by microdilution technique. The sealer was associated with 350 µg/g tt-farnesol (GS+0.35f); 1750 µg/g tt-farnesol (GS+0.175f); or only Sealapex (GS). For antimicrobial activity test, E faecalis suspension was added in tubes containing the sealer samples and incubated for 24, 48, 72, 96, 120 and 144 h. After each time, two blinded and calibrated evaluators performed the CFU count. Data were analyzed statistically by one way ANOVA and Tukey post-hoc tests (significance level P < 0.05).
Results: It was observed difference in the CFU count between GS, GS+0.35f and GS+0.175 after 48 and 72 h, and between GS for the other groups in 96, 120 and 144 h (P < 0.05). The CFU count was lower in GS+0.35f than in GS+0.175f after 48 and 72 h (P < 0.05). In GS+0.35f, there was a decrease in CFU count after 48 h and in GS+0.175f after 72 h (P < 0.01).
Conclusions: The association of tt-farnesol with Sealapex decreased E faecalis growth in vitro after 48 h of incubation. The MBC of 0.35 and 0.175 mg/mL of tt-farnesol reduced the CFU count after 48 and 72 h, respectively.
Downloads
Download data is not yet available.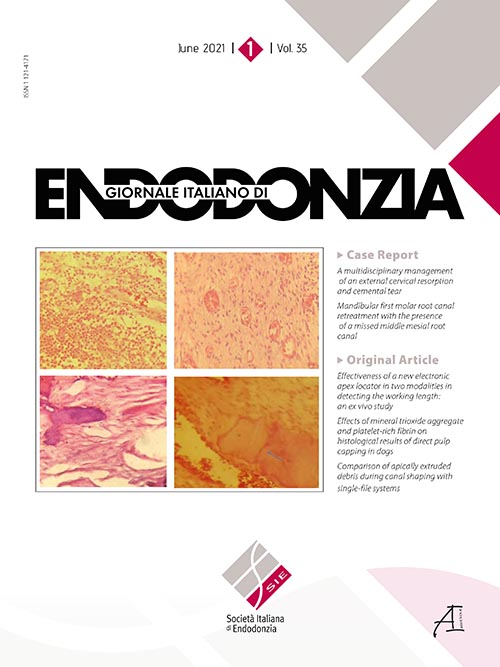 Info
Section
Original Articles
Keywords:
canals sealer, endodontics, Enterococcus faecalis
Statistics
Abstract views:

126



PDF:

34
How to Cite
Diogo De-Carli, A., Luiz Sorgatto, D., Paim, R., Colombo Vitali, F., Aielo Bomfim, R., de Carvalho Marion, J., & Mageste Duque, T. (2021). Antimicrobial activity of tt-farnesol associated with an endodontic sealer against Enterococcus faecalis. Giornale Italiano Di Endodonzia, 35(1). https://doi.org/10.32067/GIE.2021.35.01.12
Copyright (c) 2021 Alessandro Diogo De-Carli, Diego Luiz Sorgatto, Rennan Paim, Filipe Colombo Vitali, Rafael Aielo Bomfim, Jefferson de Carvalho Marion, Thais Mageste Duque
This work is licensed under a Creative Commons Attribution-NonCommercial 4.0 International License.