Influence of photosensitizing agent and number of photodynamic therapy sessions on resistance of fiberglass posts to displacement within the canal
Abstract
Aim: To evaluate the influence of the type of photosensitizing agent and the number of photodynamic therapy (PDT) sessions on the resistance of cemented fiberglass posts to displacement within the root canal.
Methodology: Fifty bovine primary incisors were randomly divided into five experimental groups according to the type of photosensitizing agent and to the number of PDT sessions: CG without PDT (control); GF1M one PDT session with methylene blue; GF2M two PDT sessions with methylene blue; GF1T one PDT session with toluidine blue; and GF2T two PDT sessions with toluidine blue. Exacto® fiberglass posts were cemented with RelyX U200® in the root canal and kept for 15 days in distilled water. The specimens were sectioned with an average thickness of 1.56 mm at the cervical, middle, and apical root thirds and subjected to the push-out test. After the test, the fractured specimens were analyzed under a stereomicroscope to determine the fracture pattern. The data obtained were treated by one-way ANOVA (α=0.05).
Results: There was no statistical difference in the comparison of the proposed treatments and the analyzed root thirds (P>0.05).
Conclusions: The type of photosensitizing agent used and the number of PDT sessions do not influence the resistance of cemented intraradicular fiberglass posts to displacement.
Downloads
Download data is not yet available.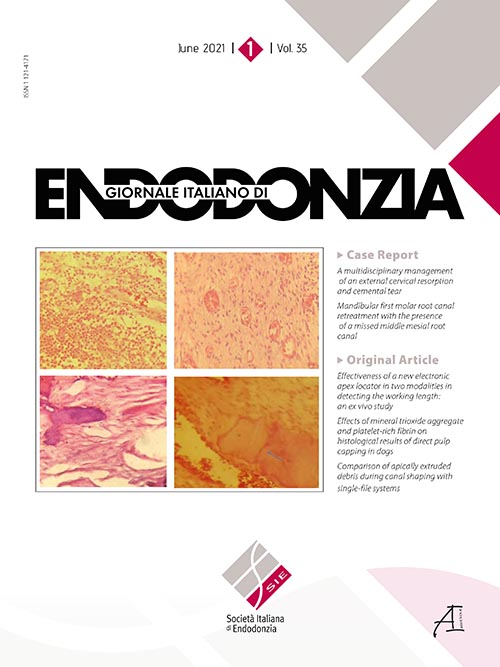 Info
Section
Original Articles
Keywords:
adhesiveness, dental post, photodynamic therapy, photosensitizing drugs
Statistics
Abstract views:

137



PDF:

37
How to Cite
Neves Portugal, B., Castelo Branco Leitune, V., & Fontoura de Melo, T. A. (2021). Influence of photosensitizing agent and number of photodynamic therapy sessions on resistance of fiberglass posts to displacement within the canal. Giornale Italiano Di Endodonzia, 35(1). https://doi.org/10.32067/GIE.2021.35.01.18
Copyright (c) 2021 Bruna Neves Portugal, Vicente Castelo Branco Leitune, Tiago André Fontoura de Melo
This work is licensed under a Creative Commons Attribution-NonCommercial 4.0 International License.