Comparison of various irrigation activation procedures after post space preparation on push-out bond strength of fiber posts: an in vitro study
Merve Özgüven Akbulut

Endodontist, Independent Researcher, Turkey.

https://orcid.org/0000-0001-5195-1517
Yağız Özbay | yagiz_ozbay@hotmail.com

Department of Endodontics, Karabuk University, Faculty of Dentistry, Karabuk, Turkey.

https://orcid.org/0000-0003-2028-8120

Ali Erdemir

Department of Endodontics, Kirikkale University, Faculty of Dentistry, Kirikkale, Turkey.

https://orcid.org/0000-0003-1140-3887
Abstract
Aim: This study aimed to compare the effectiveness of various irrigation activation methods applied after post space preparation on the push-out bond strengths of fiber posts to root canal dentin.
Materials and methods: Twenty maxillary central incisor teeth were prepared and root-filled. Following the preparation of the post spaces, the teeth were randomly allocated to 5 groups (n=4) based on the irrigation activation method. Post spaces were irrigated with 2.5% NaOCl and 17% EDTA and various irrigation activation techniques were applied in each group as follow. Group 1: conventional syringe irrigation (CSI); Group 2: manual-dynamic activation (MDA); Group 3: negative apical pressure (EndoVac); Group 4: passive ultrasonic irrigation (PUI) and Group 5: Er,Cr:YSGG laser. Subsequent to fiber post placement, the samples were transversally sectioned and push-out tests were applied for measurement of the bond strength of fiber posts.
Results: Irrigation activation with Er,Cr:YSGG laser, EndoVac and PUI resulted higher push-out bond strength in comparison to MDA and CSI (P<.05).
Conclusions: Irrigation activation with EndoVac, PUI and Er,Cr:YSGG laser provides superior bonding strength for fiber posts.
gth for fiber posts.
Downloads
Download data is not yet available.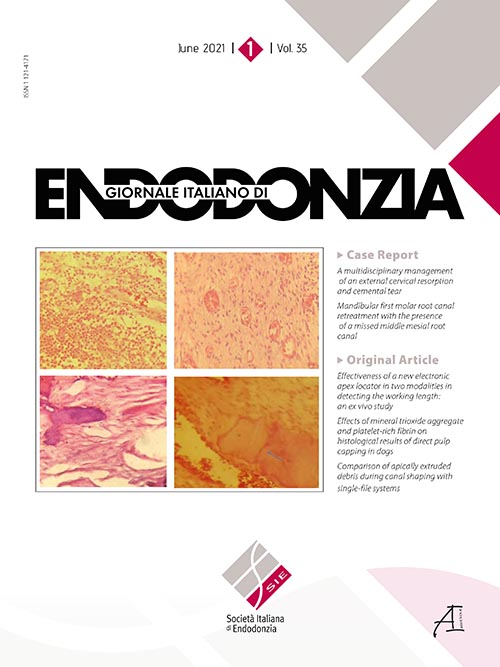 Info
Section
Original Articles
Keywords:
bond strength, fiber post, smear layer
Statistics
Abstract views:

159



PDF:

50
How to Cite
Özgüven Akbulut, M., Özbay, Y., & Erdemir, A. (2021). Comparison of various irrigation activation procedures after post space preparation on push-out bond strength of fiber posts: an in vitro study. Giornale Italiano Di Endodonzia, 35(1). https://doi.org/10.32067/GIE.2021.35.01.19
Copyright (c) 2021 Merve Özgüven Akbulut, Yağız Özbay, Ali Erdemir
This work is licensed under a Creative Commons Attribution-NonCommercial 4.0 International License.