Influence of operator's experience in three different instrumentation techniques: an in vitro study
Ilaria La Prova | ilaria.laprova@gmail.com

Department of Biomedical, Surgical and Dental Sciences, University of Milan and IRCCS Galeazzi Orthopedic Institute, Milan, Italy.

https://orcid.org/0000-0002-7282-1268

Isabella Perondi

Department of Biomedical, Surgical and Dental Sciences, University of Milan and IRCCS Galeazzi Orthopedic Institute, Milan, Italy.

Stefano Corbella

Department of Biomedical, Surgical and Dental Sciences, University of Milan and IRCCS Galeazzi Orthopedic Institute, Milan and Department of Oral Surgery, Institute of Dentistry, I. M. Sechenov First Moscow state medical University, Moscow, Russia, Italy.

https://orcid.org/0000-0001-8428-8811

Roberto Fornara

Department of Biomedical, Surgical and Dental Sciences, University of Milan and IRCCS Galeazzi Orthopedic Institute, Milan, Italy.

https://orcid.org/0000-0002-6841-6534

Silvio Taschieri

Department of Biomedical, Surgical and Dental Sciences, University of Milan and IRCCS Galeazzi Orthopedic Institute, Milan and Department of Oral Surgery, Institute of Dentistry, I. M. Sechenov First Moscow state medical University, Moscow, Russia, Italy.

https://orcid.org/0000-0002-7866-5024
Abstract
Aim: To evaluate the influence of operator's experience comparing rotary and reciprocating shaping systems on simulated root canals.
Methodology: Ninety resin blocks with simulated root canals were distributed to six groups (15 for each group); three groups of instrumentation were assigned to undergraduate students and three to specialists in endodontics. For each category of experience, the shaping was performed with Protaper Gold™, Wave One Gold™ and Stainless-steel K-File (Control). Resin blocks were inked, then pre- and post-instrumentation photographic images were taken to be superimposed by an imaging software (GIMP 2.10.10) and analyzed by ImageJ software. After the use of each instrument, a rinse with NaOCl 2,5% was made. The outcomes evaluated were the presence of apical zip, ledges, perforation, the centering ability and the amount of resin removed. 
Results: The photographic analysis of the resin blocks showed a prevalence of apical zips within the undergraduate groups; the expert groups realized a higher number of ledges, while the number of perforations resulted to be higher in the inexpert Stainless-steel control group. The amount of resin removed was significantly higher in the undergraduate WOG group, as well as the centering ability.
Conclusions: The rotary and reciprocating systems provides valid operative standards; by the way, inexpert operators showed major difficulties managing the reciprocating system. More studies are required to assess this parameter.
Downloads
Download data is not yet available.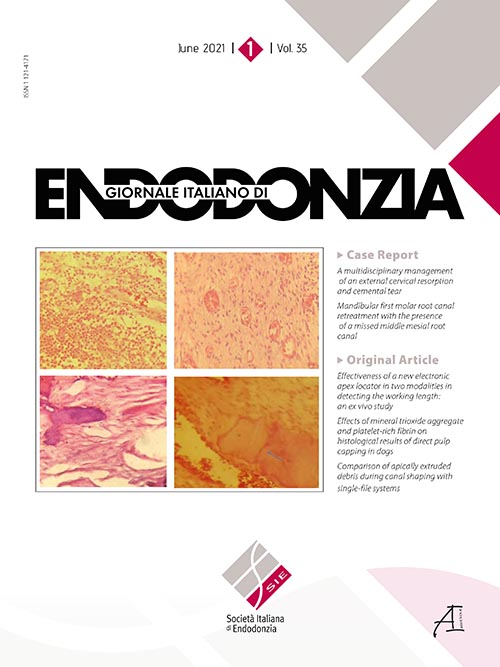 Info
Section
Original Articles
Keywords:
apical zip, in vitro study, ProtaperGold, reciprocating, WaveOne Gold
Statistics
Abstract views:

70



PDF:

24
How to Cite
La Prova, I., Perondi, I., Corbella, S., Fornara, R., & Taschieri, S. (2021). Influence of operator's experience in three different instrumentation techniques: an in vitro study. Giornale Italiano Di Endodonzia, 35(1). https://doi.org/10.32067/GIE.2021.35.01.11
Copyright (c) 2021 Ilaria La Prova, Isabella Perondi, Stefano Corbella, Roberto Fornara, Silvio Taschieri
This work is licensed under a Creative Commons Attribution-NonCommercial 4.0 International License.