Direct pulp capping using Simvastatin and MTA in dogs' teeth: marginal adaptation SEM study
Abstract
Aim: To investigate the marginal adaptation of Simvastatin (Smv), Mineral Trioxide Aggregate (MTA), and the combination of the two materials after direct pulp capping (DPC) in dogs' teeth after three months.
Methodology: DPC was performed at random on 18 maxillary and mandibular incisors of two dogs. The pulpal exposures in class V cavities were capped with either Smv or Smv+MTA or MTA. All cavities were restored with Intermediate Restorative Material (IRM). After a 90-day follow-up period, the dogs were euthanised and the incisors were sectioned into two halves and studied under the scanning electron microscope (SEM). The interface between the DPC materials and pulp as well as dentine is examined for gap mean percentage to the total area of the DPC material.
Results: There was a statistically significant difference between Smv and Smv+MTA groups (P<0.05). Statistically, significant difference was neither observed between MTA and Smv nor between MTA and Smv+MTA groups (P>0.05). The highest mean gap area percentage value was recorded in the Smv+MTA group (3.750±1.802) followed by the MTA group (2.121±1.166) while the lowest gap percentage was recorded in the Smv group (1.339±1.271).
Conclusions: Simvastatin showed a good marginal adaptation property that encourages its use as DPC material.
Downloads
Download data is not yet available.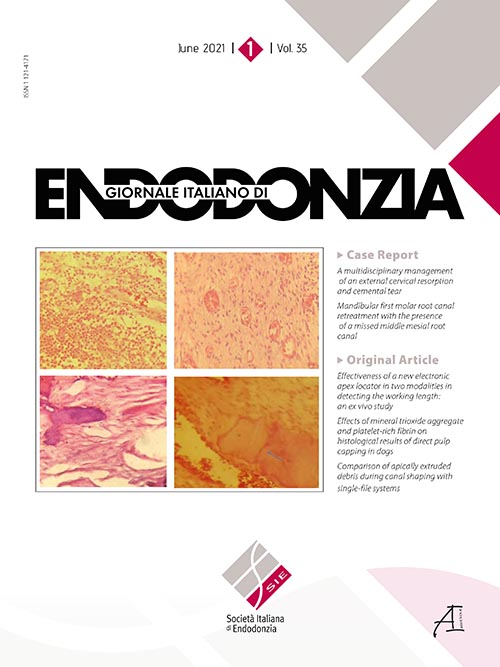 Info
Section
Original Articles
Keywords:
direct pulp capping, mineral trioxide aggragate, scanning electron microscopy, simvastatin
Statistics
Abstract views:

111



PDF:

41
How to Cite
Sharaan, M., Aly, A., Elddamony, E., & Hashem, M. (2021). Direct pulp capping using Simvastatin and MTA in dogs' teeth: marginal adaptation SEM study. Giornale Italiano Di Endodonzia, 35(1). https://doi.org/10.32067/GIE.2021.35.01.25
Copyright (c) 2021 Marwa Sharaan, Asmaa Aly, Enas Elddamony, Mohamed Hashem
This work is licensed under a Creative Commons Attribution-NonCommercial 4.0 International License.