Efficacy of XP-endo Finisher-R in enhancing removal of bioceramic sealer from oval root canal: a micro CT study
Bassem M. Eid

Restorative Dental Sciences Department, College of Dentistry, Gulf Medical University, Ajman, United Arab Emirates.

https://orcid.org/0000-0002-4822-5503

Heba B. Abdel Maksoud

Conservative Dentistry Department, Faculty of Dentistry, Suez Canal University, Egypt and Faculty of Dentistry King Abdulaziz University Jeddah, Saudi Arabia.

https://orcid.org/0000-0001-5038-715X
Tarek M. Elsewify | tarek_elsewefy@dent.asu.edu.eg

Department of Endodontics, Faculty of Dentistry, Ain Shams University, Cairo, Egypt.

https://orcid.org/0000-0001-9266-7838
Abstract
Aim: To investigate the efficacy of the XP-endo Finisher-R (XP-FR) and manual H-filing in enhancing the removal of Totalfill BC sealer from oval root canals.
Methodology: Forty mandibular incisors were prepared using ProTaper Next up to file X3 then filled with warm vertical condensation using Totalfill BC sealer. The volume of the root canal filling post-obturation and the remaining volume post-retreatment using Mani NRT-GPR system were assessed using Micro-CT (µ-CT). The total volume in 3 mm was calculated from the cervical line till the root apex using the CT-an software. Specimens were randomly divided into two equal groups n=20 according to the supplementary approach of gutta percha removal used; where Group I: XP-FR was used for 1 min, and Group II: size 30 H-file was used in a filing motion for 1 min. Specimens were again scanned using µ-CT and the remaining gutta percha volume was calculated. Data were statistically analyzed using Wilcoxon, Man-Whitney, Friedman tests with significance level of 5%.
Results: Significant reduction of the remining filling material was recorded post-retreatment with percentage of reduction of 63.34%, 78.53%, and 66.21% at the apical, middle, and coronal thirds respectively using Mani NRT-GPR system. Supplementary removal approaches significantly improved filling material removal (P<0.05). XP-FR removed significantly more filling material than manual H-filing with percentage of filling material reduction of 52.22%, 34.92%, and 40.60% compared to 21.89%, 18.43%, 31.72% in the apical, middle, and coronal thirds (Man-Whitney test, P<0.001).
Conclusions: Rotary retreatment files failed to totally remove the root canal filling material. Supplementary methods have improved root canal filling material removal; where XP-FR significantly removed more filling than manual H-filing.
Downloads
Download data is not yet available.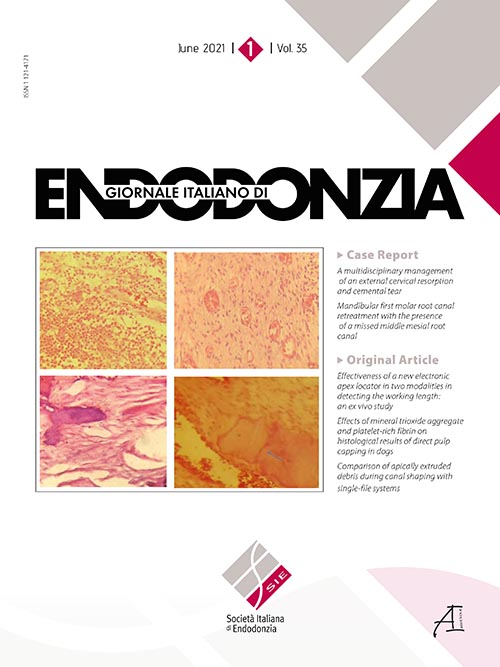 Info
Section
Original Articles
Keywords:
bioceramic sealer, micro CT, manual H-filling, retreatment, XP-endo-finisher
Statistics
Abstract views:

162



PDF:

51
How to Cite
Eid, B. M., Abdel Maksoud, H. B., & Elsewify, T. M. (2021). Efficacy of XP-endo Finisher-R in enhancing removal of bioceramic sealer from oval root canal: a micro CT study. Giornale Italiano Di Endodonzia, 35(1). https://doi.org/10.32067/GIE.2021.35.01.26
Copyright (c) 2021 Bassem M. Eid, Heba B. Abdel Maksoud, Tarek M. Elsewify
This work is licensed under a Creative Commons Attribution-NonCommercial 4.0 International License.