Effectiveness of a new electronic apex locator in two modalities in detecting the working length: an ex vivo study
Raffaella Castagnola | castagnolaraffaella@gmail.com

Department of Operative Dentistry and Endodontics, "Fondazione Policlinico Universitario A. Gemelli IRCCS", Rome and Institute of Dentistry and Maxillofacial Surgery, Catholic University of the Sacred Heart, Rome, Italy.

https://orcid.org/0000-0003-4994-6780

Rosalba Diana

Department of Operative Dentistry and Endodontics, "Fondazione Policlinico Universitario A. Gemelli IRCCS", Rome and Institute of Dentistry and Maxillofacial Surgery, Catholic University of the Sacred Heart, Rome, Italy.

https://orcid.org/0000-0003-1618-2702

Mauro Colangeli

Department of Operative Dentistry and Endodontics, "Fondazione Policlinico Universitario A. Gemelli IRCCS", Rome and Institute of Dentistry and Maxillofacial Surgery, Catholic University of the Sacred Heart, Rome, Italy.

https://orcid.org/0000-0001-5291-5526

Claudia Panzetta

Physics Institute, Catholic University of the Sacred Heart, Rome, Italy.

https://orcid.org/0000-0002-6022-8117

Luca Marigo

Department of Operative Dentistry and Endodontics, "Fondazione Policlinico Universitario A. Gemelli IRCCS", Rome and Institute of Dentistry and Maxillofacial Surgery, Catholic University of the Sacred Heart, Rome, Italy.

Nicola Maria Grande

Department of Operative Dentistry and Endodontics, "Fondazione Policlinico Universitario A. Gemelli IRCCS", Rome and Institute of Dentistry and Maxillofacial Surgery, Catholic University of the Sacred Heart, Rome, Italy.

Gianluca Plotino

Private practice in Rome, Italy.

https://orcid.org/0000-0003-3003-8029
Abstract
Aim: This ex vivo study aims to compare the accuracy of two electronic apex locators, Wirele-X (Forum Engineering Technologies Ltd., Israel), tested in two modalities, alone and connected to the display screen and Dentaport ZX (J. Morita, Tokyo, Japan) in determining the working length.
Methodology: 15 single-rooted teeth were selected for this study. The actual microscopic working length was measured using a size 10 K-file that was advanced until the tip of the file could be visualized just within the apical foramen under a stereomicroscope. Then each tooth was placed into the alginate to simulate the clinical conditions. Wirele-X and Dentaport ZX were used according manufacturer's instructions. Three measurements were performed for each tooth and each apex locator and modality and differences between the electronic and actual working lengths were calculated. Positive values indicated measurements that extruded beyond the apical foramen, while negative values indicated measurements that were short of the apical foramen. Means and standard deviation were calculated and the statistical analysis was performed using One-way ANOVA and Tukey tests (P<0.05).
Results: The difference between electronic and actual working length was 0.05±0.34 mm for Wirele-X alone, 0.003±0.37 mm for Wirele-X connected to the display screen and 0.08±0.35 mm for Dentaport ZX. No statistical differences were found among Wirele-X alone, Wirele-X connected to the display screen and Dentaport ZX (p>0.05).
Conclusions: Wirele-X in both modalities and Dentaport ZX showed a high accuracy in determining working length and were accurate to within ±0.5 mm, without any statistical differences among them.
Downloads
Download data is not yet available.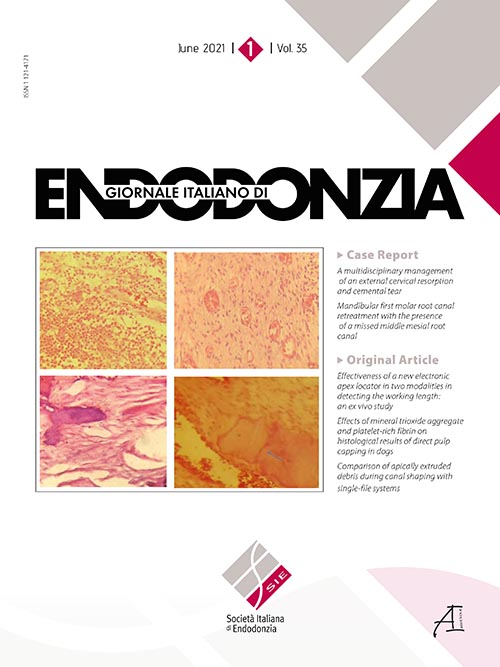 Info
Section
Original Articles
Keywords:
apex locator, apical foramen, Dentaport ZX, Wirele-X
Statistics
Abstract views:

873



PDF:

84
How to Cite
Castagnola, R., Diana, R., Colangeli, M., Panzetta, C., Marigo, L., Grande, N. M., & Plotino, G. (2021). Effectiveness of a new electronic apex locator in two modalities in detecting the working length: an ex vivo study. Giornale Italiano Di Endodonzia, 35(1). https://doi.org/10.32067/GIE.2021.35.01.21
Copyright (c) 2021 Raffaella Castagnola, Rosalba Diana, Mauro Colangeli, Claudia Panzetta, Luca Marigo, Nicola Maria Grande, Gianluca Plotino
This work is licensed under a Creative Commons Attribution-NonCommercial 4.0 International License.