Using the Periapical Index to evaluate the healing of periapical lesions after root canal treatment
Vicente Rueda-Ibarra

Advanced Studies and Research Center in Dentistry Dr. Keisaburo Miyata, Faculty of Dentistry at Autonomous University of State of Mexico, Toluca , Mexico.

https://orcid.org/0000-0002-6310-0995

Brissa Itzel Jiménez-Valdés

Advanced Studies and Research Center in Dentistry Dr. Keisaburo Miyata, Faculty of Dentistry at Autonomous University of State of Mexico, Toluca , Mexico.

https://orcid.org/0000-0002-1228-7972

Hugo Eduardo García-García

Advanced Studies and Research Center in Dentistry Dr. Keisaburo Miyata, Faculty of Dentistry at Autonomous University of State of Mexico, Toluca , Mexico.

Ulises Velázquez-Enríquez

Advanced Studies and Research Center in Dentistry Dr. Keisaburo Miyata, Faculty of Dentistry at Autonomous University of State of Mexico, Toluca , Mexico.

https://orcid.org/0000-0002-8796-7809

Salvador Eduardo Lucas-Rincón

Academic Area of Dentistry of Health Sciences Institute, Autonomous University of Hidalgo State, Pachuca, Mexico and Clinic of Dental Specialties of the General Hospital of Pachuca, campus Arista of the Ministry of Health of Hidalgo, Pachuca, Mexico.

https://orcid.org/0000-0002-6622-8054

Sandra Aremy López-Gomez

Academic Area of Dentistry of Health Sciences Institute at Autonomous University of Hidalgo State, Pachuca, Mexico.

Carlo Eduardo Medina-Solís | cemedinas@yahoo.com

Academic Area of Dentistry of Health Sciences Institute at Autonomous University of Hidalgo State, Pachuca, Mexico.

https://orcid.org/0000-0002-1410-9491
Abstract
Aim: Root canal treatment is aimed at curing or preventing periapical periodontitis. This study aimed to radiographically evaluate the remission of periapical lesions after root canal treatment.
Materials and Methods: An observational, longitudinal, ambispective (retrospective and prospective) and comparative (before and after) study at the endodontic clinic of the Autonomous University of State of Mexico was realized. Nineteen patients were included who met the inclusion and exclusion criteria. A periapical x-ray of follow-up and evolution was performed in the period February–June 2017 and compared with the initial radiograph. The periapical root status was evaluated using the periapical index (PAI) described by Ørstavik et al., in 1986.
Results: 36.8% were male and 63.2% female. The mean age was 40.31±12.75 years. The mean number of days elapsed between the initial radiograph and the control radiograph was 618.42±102.38. The comparison of the initial and final periapical state of all teeth was favorable; in all, a positive change in the periapical lesion was observed (p=0.0001).
Conclusions: The root canal treatment in the sample studied reduces apical periodontitis with a high rate of success, allowing the periradicular tissues of the dental organs to recover their state of health. In developing countries, like Mexico, root canal treatment is a procedure that demonstrates effectiveness at 2 years after it is done. This kind of treatments is recommended to preserve the teeth in the Mexican population.
Downloads
Download data is not yet available.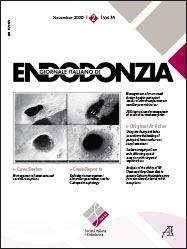 Info
Section
Original Articles
Keywords:
endodontics, periapical periodontitis, periapical index and radiographic evaluation
Statistics
Abstract views:

144



PDF:

99
How to Cite
Rueda-Ibarra, V., Jiménez-Valdés, B. I., García-García, H. E., Velázquez-Enríquez, U., Lucas-Rincón, S. E., López-Gomez, S. A., & Medina-Solís, C. E. (2020). Using the Periapical Index to evaluate the healing of periapical lesions after root canal treatment. Giornale Italiano Di Endodonzia, 34(2). https://doi.org/10.32067/GIE.2020.34.02.01
Copyright (c) 2020 Vicente Rueda-Ibarra, Brissa Itzel Jiménez-Valdés, Hugo Eduardo García-García, Ulises Velázquez-Enríquez, Salvador Eduardo Lucas-Rincón, Sandra Aremy López-Gomez, Carlo Eduardo Medina-Solís
This work is licensed under a Creative Commons Attribution-NonCommercial 4.0 International License.