Editorial
Sandro Rengo | sanrengo@unina.it

Editor-in-Chief, Giornale Italiano di Endodonzia, Italy.
Abstract
During the 36th National Congress of the Italian Society of Endodontics (SIE) to be held in Bologna from 7th to 9th of November 2019, we will talk about Modern Endodontics between technology and experience, with a series of discussions and lectures about the most recent developments in the digital workflow applied to Endodontics [...].
Downloads
Download data is not yet available.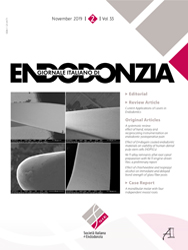 Info
Keywords:
36 congress, modern endodontics
Statistics
Abstract views:

256



pdf:

179
How to Cite
Rengo, S. (2019). Editorial. Giornale Italiano Di Endodonzia, 33(2). https://doi.org/10.32067/gie.2019.33.02.07