Effect of composite thickness over the fiber post on fracture resistance of endodontically treated teeth
Kasra Rahimipour

Dental Research Center, Research Institute of Dental Sciences, School of Dentistry, Shahid Beheshti University of Medical Sciences, Tehran, Iran, Islamic Republic of.

Narges Panahandeh

Dental Research Center, Research Institute of Dental Sciences, School of Dentistry, Shahid Beheshti University of Medical Sciences, Tehran, Iran, Islamic Republic of.

https://orcid.org/0000-0001-6889-7801
Seyedeh Mahsa Sheikh-Al-Eslamian | mahsa.sheikh@gmail.com

Dental Research Center, Research Institute of Dental Sciences, School of Dentistry, Shahid Beheshti University of Medical Sciences, Tehran, Iran, Islamic Republic of.

https://orcid.org/0000-0002-2000-9921

Reza Mousavi

Dental Research Center, Research Institute of Dental Sciences, School of Dentistry, Shahid Beheshti University of Medical Sciences, Tehran, Iran, Islamic Republic of.

Hassan Torabzadeh

Dental Research Center, Research Institute of Dental Sciences, School of Dentistry, Shahid Beheshti University of Medical Sciences, Tehran, Iran, Islamic Republic of.

https://orcid.org/0000-0002-3262-7102
Abstract
Aim: This study aimed to assess the effect of composite thickness over the fiber post on fracture resistance of endodontically treated teeth.
Methods: This in vitro, experimental study was performed on 50 sound human premolars, which were randomly divided into 5 groups (n=10). Teeth in Group 1 remained intact while other specimens underwent root canal treatment with a Mesio-occluso-distal (MOD) cavity preparation, restored with fiber posts with a distance of 1.5 mm to the occlusal surface in groups 2 and 4 and 0.5 mm in groups 3 and 5. 24 hours of incubation was applied for groups 1-3 and 1 year of incubation for groups 4 and 5. Thereafter fracture strength measured using a Universal Testing Machine at a crosshead speed of 1 mm/minute. Data were analyzed using Shapiro-Wilk, Two-Way ANOVA and Tukey HSD.
Results: The results showed a significant difference in terms of fracture resistance (P<0.05). The difference in fracture resistance between Group 1 and other groups was not statistically significant at 24 h (P>0.05). Also, Tukey HSD revealed no statistically significant differences between Group 1 and 4 at one year. However, Group 1 (1255.25±280.61N) exhibited significantly higher fracture resistance than that of Group 5 (855.72±300.20N) at one year (P=0.027). The difference between other groups was not significant at any time point (P>0.05).
Conclusions: By covering the fiber post with 1.5 mm thickness of composite resin and cuspal reduction of 2 mm, the fracture resistance of endodontically treated teeth can be increased to the level of sound teeth.
Downloads
Download data is not yet available.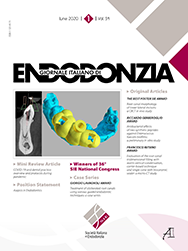 Info
Section
Original Articles
Keywords:
Composite Resin, Conservative Dentistry, Endodontically Treated Teeth, Fiber Post, Fracture Resistance, Restorative Dentistry
Statistics
Abstract views:

367



PDF:

301
How to Cite
Rahimipour, K., Panahandeh , N., Sheikh-Al-Eslamian, S. M., Mousavi, R., & Torabzadeh, H. (2020). Effect of composite thickness over the fiber post on fracture resistance of endodontically treated teeth. Giornale Italiano Di Endodonzia, 34(1). https://doi.org/10.32067/GIE.2020.34.01.11
Copyright (c) 2020 Kasra Rahimipour, Narges Panahandeh , Seyedeh Mahsa Sheikh-Al-Eslamian, Reza Mousavi, Hassan Torabzadeh
This work is licensed under a Creative Commons Attribution-NonCommercial 4.0 International License.